Exclusive Offer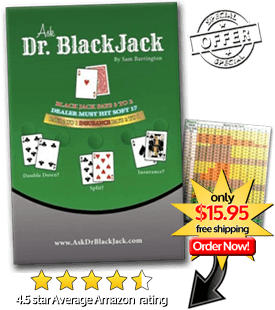 Get your copy of Ask Dr. BlackJack from the official website for Sam Barrington and learn how to win at the casino using the methods of a world class Blackjack player.
This exclusive offer includes the book plus a laminated strategy card and as an added bonus, and for a limited time only, Sam Barrington will autograph every book ordered here on his official website! Don't miss this opportunity to own an autographed copy from the one and only Dr. BlackJack.
No complicated card counting
No cheap gimmicks
No cheating
Proven real world success for over 30 years
You get the book, the autograph, and the card – All for only $15.95!
Extra Savings! For a limited time get FREE SHIPPING anywhere in the USA! Act now to save.

I have traveled all over the world gambling with my husband. We have both played professionally and done well, thought we knew all there was to know about Blackjack. After reading "Ask Dr. BlackJack" we discovered plays that only enhanced our winning experiences. This book is well worth the price.
Margaret Hinson
Midtown Billiards, Since 1940 (Owner)